Laird Connectivity's BL65x Family
FAQ
Laird Connectivity has a rich portfolio of BLE module offerings. Their BL65x family is made up of certified modules that are based on Nordic's famed nRF52 SoC series, enabling engineers to implement some, or all, of the major features of the Bluetooth 5 specification like higher data throughput, extended range, and increased broadcast message capacity for their designs.
1. What are the offerings of the Laird BL65x family?
2. What are the major differences between modules in the BL65x family?
The specific Nordic SoC each module hosts dictates the Bluetooth 5 feature sets that it can support. For instance, higher-tiered Nordic SoCs like the nRF52833 and the nRF52840provide greater flash/ RAM capacity to support major Bluetooth 5 features like BLE 2 Mbps data throughput, longer range, and advertising extensions (introduced to lower channel congestion when beacons are broadcasting their presence to other devices). Conversely, the lower-tiered nRF52810 will only be able to support Bluetooth 5's 2 Mbps data throughput feature due to the SoC's lower flash/RAM capacity. Some Nordic SoCs are able to support an extensive range of other wireless protocols in addition to Bluetooth 5. For example, the Laird Connectivity modules that host either the nRF52840, nRF52833, or nRF52832 can also support 802.15.4 (Thread, Zigbee) and NFC. For further details on the Nordic nRF52 SoC series and their different feature sets, you can refer to this table overview.
3. How does the Laird BL65x family differentiate from other suppliers that also produce Nordic-based modules?
The Laird Connectivity BL65x family allows customers to develop BLE applications using Nordic's nRF Connect SDK. Additionally, Laird Connectivity's smartBASIC environment. is another comprehensive option for programming BL65x modules. SmartBASIC is an event-driven programming language for hostless applications that significantly simplifies firmware development for customers who don't have a dedicated software team or need to accelerate their time to market through decreased development time. Development that is usually done in thousands of lines of C code using the Nordic SDK is essentially condensed into built-in functions of the smartBASIC programming language (Figure 1).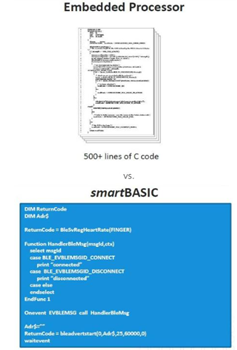 Figure 1: Development using C code vs. Laird's smartBASIC
SmartBASIC is a very simple embedded environment on which to develop, as much of the functionality comes prepackaged. Creating your own SmartBASIC application does not require a complex and costly development environment since the code can be simply written in a standard text editor. Once customers have a SmartBASIC application developed, they can compile and load the code to the module using Laird Connectivity's free terminal emulator for Windows – UwTerminalX.
4. Does the BL65x family support AT commands?
Yes. Laird Connectivity has created a complete AT command set on top of smartBASIC's programming language. This is implemented into BL65x modules by loading a custom-designed smartBASIC application that provides the AT command set.
5. Does the entire Laird BL65x family support smartBASIC?
Aside from the BL651, the entire BL65x family supports smartBASIC. The BL651 module hosts the nRF52810 which has insufficient flash and RAM to support the smartBASIC firmware. As a result of this, the BL651 is also unable to support the AT command set that requires loading a custom smartBASIC application onto the module. To develop applications for the BL651, customer will have to rely on the Nordic SDK.
6. Can the BL65x family support Matter?
Only the BL654 and BL654PA can support Matter when software development is done using the Nordic SDK. The BL651, BL652, BL653, and BL653µ will be unable support Matter due to their insufficient flash and RAM capacity.
7. Can any module in the BL65x family support LE Audio?
No. For LE audio applications, Laird Connectivity has instead introduced the BL5340 Series that hosts the Nordic nRF5340 SoC. If an engineer needs to implement LE Audio for their project, the Nordic nRF5340 with its dual-core design allows the module to have the higher performance required to run the LC3 Audio Codex on top of the Bluetooth 5.2 stack and improved audio PLL.